There are two different ways of creating invoices from offers in Billomat.
How do I create an invoice from an offer ?
First go to the detailed view of the offer. In order to be able to make an invoice from the offer, the offer must be marked as won at Billomat.
Step 1: Mark your offer as won
To do this, click onWon in the sidebar on the right and then again on the mark as won , which then appears in the same place.

If it worked, the sidebar should look something like this afterwards: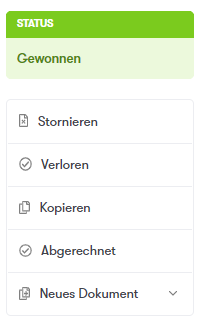 Step 2: Create further documents from the offer you won
You can now create further documents from the offer marked as won. To do this, click on New Document in the sidebar and then select the type of document you want to create from it in the drop-down menu that opens.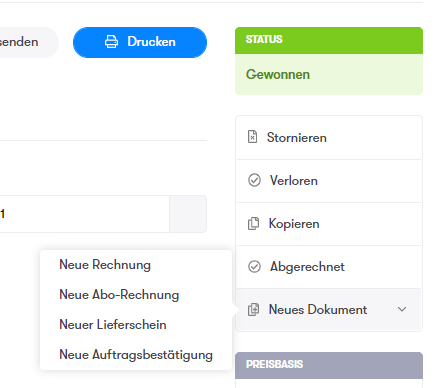 The order confirmation is generally used to notify acceptance of the offer and is therefore the next logical step after the offer. For example, you can create an order confirmation and then generate an invoice from it, but you can also create an invoice directly. Conveniently, there is an automatic takeover of the customer, the articles and other information that could be important.
Note: The offer and your selected document are linked to one another in the Billomat database, which you can see in the detailed view of the invoice under Links.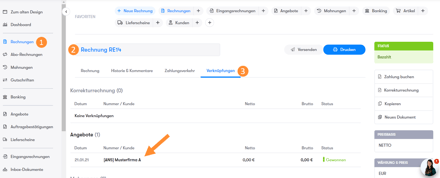 Further links in Billomat

Incidentally, all other documents that are created in this way are also linked to one another. With Billomat you can see exactly which invoice belongs to which delivery note, offer and which order confirmation.