You can create employee access using the rights and roles function and define exactly what which employee is allowed to do so.
Define rights and roles for employees
In order for your colleagues to be able to log into Billomat, they first need access. But before that you should create a
new role for your employees:
Settings > Administration > Rights/ Roles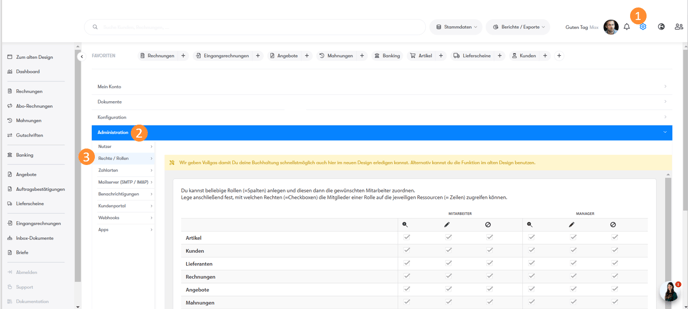 There you will find the corresponding option and you can also specify which approvals the group should receive:
Can invoices and offers only be read or also processed?
Can the company account be edited? So can new templates be created or can the sales tax identification number even be changed?
This is how you do it:
Click on New Role below the table.
Define a name for your new role.
Click on Save

A new column for your new role has now been created in the table . Select the desired permissions in the table by ticking the corresponding boxes.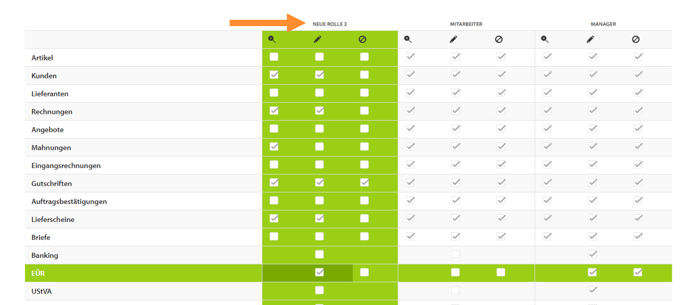 Then click on Save below the table. Complete!
Create employees

If the rights and roles are clearly divided, the employee must create the access.
Settings > Administration > Users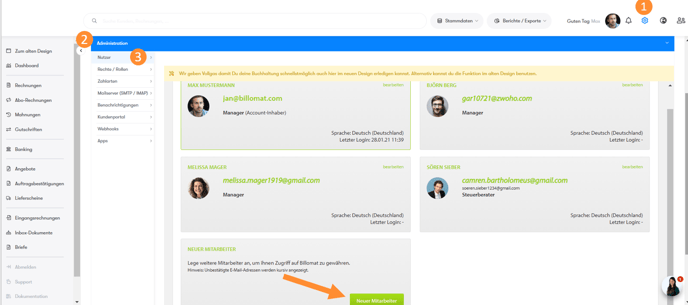 Here you can see your created users. In the last place you will find the New Employee option . Here you can set up your new account.
In the window that opens, you can specify the following:
Does the employee get their own signature for the invoices they have completed?
Does he get notifications from Billomat and when?
What should be entered in the attribute fields?
When you've filled out the fields you want and you're done, you'll find the Save option at the bottom again . Your employee will then receive the password by email.
Tax advisor in Billomat

From the Business tariff you can create free access for your tax advisor. The additional user will not be deducted from your available quota.
As with employees, you can select Settings > Administration > Users here.
Tax consultants can log into Billomat and download all the documents they need directly. Can it get any better? With DATEV and Agenda Export you save your tax advisor a lot of work.
Here you can find out more about DATEV export (german).
Video tutorial
In the video you can see each step carried out individually: